There are many laser marking machines on the market, so you don't have to worry about where you can't buy them. The export of original equipment, designed by the international itself, can be said to have everything, but it also puzzles many customers who buy laser marking machines for the first time. So which brand of laser marking machine is good? What are the main factors for selecting laser marking machine? The following suggestions should be helpful to your purchase decision.
Marking of stainless steel workpiece
First, the marking material. There are many kinds of laser marking machines, such as optical fiber laser marking machine, carbon dioxide laser marking machine and ultraviolet laser marking machine. Different laser marking machines are selected according to different materials. Optical fiber laser marking machine is suitable for marking metal materials and local non-metallic materials. It has the advantages of low price and convenient operation. Carbon dioxide CO2 laser marking machine is suitable for marking all kinds of non-metallic materials, such as acrylic, glass, plastic bottles, leather, cloth, etc. UV laser marking machine is suitable for ultra-high precision marking with high definition, such as electronic products, plastics, glass, LCD, monocrystalline silicon, etc.
Second, the production process. If it is a manual laser marking machine, it is OK to use a general standard laser marking machine. For example, most of the production lines need customization, so as to waste work efficiency.
Third, the size of the area to be marked. Laser marking machines should be selected according to the marking size. If you are numb and choose a laser marking machine with a large engraving area, it will not only be expensive, but also make it difficult to deal with marks with a small engraving area.

Fourth, laser power. Different laser marking machines have different power ranges. The most economical and reasonable choice shall be made according to the material, process requirements, marking area and efficiency.
Fifth, marking speed. Most customers want a marking machine with fast marking speed and high efficiency. They think that faster marking speed can produce more profits. But fast speed does not mean good quality. Fast speed, good quality and high price. Therefore, the laser marking machine with high cost performance should be comprehensively considered in the selection.

Sixth, import or domestic. In recent ten years, China's laser technology has developed rapidly, and many domestic laser technologies are not inferior to imported laser technologies. But then again, the overall performance of most imported laser equipment is slightly better than that of domestic laser equipment. However, considering the cost performance and after-sales service, the service of imported equipment is slightly insufficient. Therefore, if domestic laser marking equipment can meet the demand, domestic laser equipment is preferred.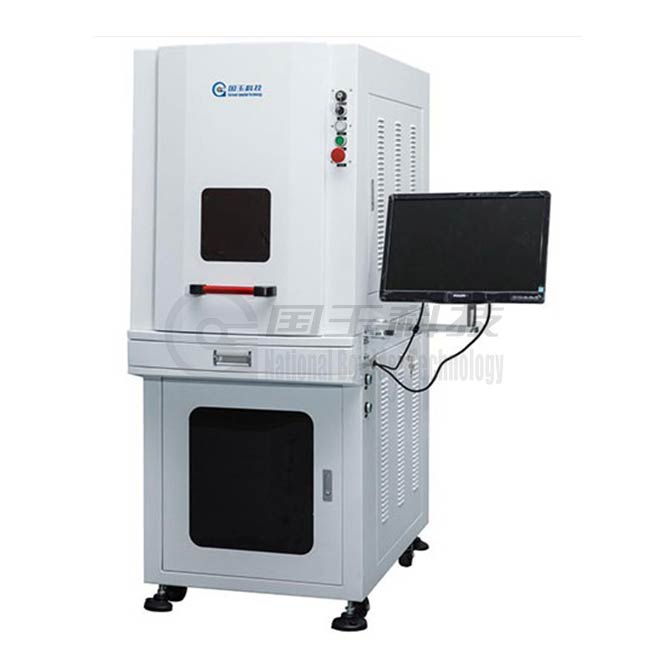 With the localization of key accessories of laser equipment, the price is more close to the people. Laser marking machine has become a sharp tool for many small and medium-sized enterprises to upgrade their products and improve production efficiency, and the demand market has also shown parallel growth. However, some unscrupulous enterprises use second-hand lasers, pirated boards and pirated software on laser equipment to disrupt the market order at low prices and have a bad impact. Guoyu technology insists on putting product quality first and provides high-quality optical fiber laser marking machine, carbon dioxide CO2 laser marking machine, ultraviolet laser marking machine and flight marking machine system for the result page. All key accessories of laser marking machine adopt brand-new well-known laser, genuine board software, high-speed digital galvanometer and field mirror. Wholeheartedly provide customers with the most cost-effective laser marking machine equipment.